This is a story that needs to be told. You are about to read an eyewitness account of the biggest streak in the history of the United States.
It happened in the spring of 1974 in Athens, Georgia. I was there. Saw it all.
And all saw me.
My daddy was paying a lot of money for me to get an education. I was getting more of an education than he realized.
A buddy and I were riding along in my 1964 push button Plymouth listening to the tunes from WRFC AM radio station. All of a sudden the announcer on the radio interrupted the music and said that the station had just received a call that a sorority was about to streak in front of their radio station.
We looked at each other and did what any other warm blooded 19 year old boys would do. We made a U-Turn and headed to the radio station.
I think every other UGA student in Athens heard that announcement and did the same thing. There was a major traffic jam in front of the radio station by the time we got there.
The longer we waited – the bigger the crowd got. Everybody was waiting on a truckload of naked girls to arrive on the scene. After a couple of hours, we decided it had to be a hoax.
Then all of a sudden a truck pulled up and about 12 naked guys jumped out of the back of the truck. The girls in the crowd screamed and scattered.
It was the funniest thing I had ever seen in my life.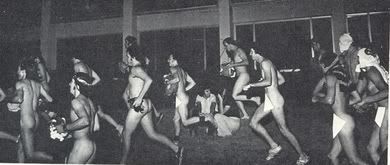 Later that same night we heard a crowd was gathering in front of one of the large girls dorms. We headed there and found quite a show in progress. A light would blink off and on in a certain room to get everybody's attention. And then the light would come on for about 5 seconds and a naked girl would appear in the window. This went on for hours with many girls as participants.
Somewhere in south Georgia a couple of proud parents sitting in their den thought their innocent little girl was in a library somewhere studying.
The next afternoon from the front porch of the LXA house we watched as some girls from a nearby sorority exposed their booties in the car windows for us as they rode by.
It wasn't long before every guy I knew was taking his clothes off. Big people, little people, fat people, skinny people. It didn't matter. Athens became naked city.
Every night that week was like Mardi Gras. There was a continuous parade of cars and trucks honking their horns with naked people on the hoods or trunks or in the back of the trucks riding down Milledge Avenue.
And there were large crowds on both sides of the road cheering them on all the way.
The news media came in from all over and one of my fraternity brothers who was on the gymnastics team got himself on the 6:00 news in Atlanta. His parents called the fraternity house looking for him and they were not happy. They had just seen their athletic son on TV doing flips through the Bulldog Room… buck naked.
We got used to seeing naked people. I remember one late night at the Krystal when I looked up and saw a guy as naked as he came in the world standing in line waiting to give his order. All he had on were his tennis shoes.
The funny thing was that nobody was even paying attention to him.
One night two crazy guys dribbled a basketball down Milledge Aveneue and into a sorority house. The ball went under a sofa and the dribbler got a standing ovation from the girls when he bent down to get it.
Later in the week a group began to pass out flyers to get everybody to participate in the big streak. The organized effort was to set the national record for having the most naked people in one place.
The appointed date and time came. The national media was there. A Lady Godiva was riding her white horse. There were naked people everywhere – cheek to cheek. Gym shorts in hand.
The men who liked men were in hog heaven. When some of us realized that - we quietly slipped our gym shorts back on and waited for the running to begin.
Everyone met at Myers quadrangle on South Campus. The plan was for everyone to gather there and be counted and then to run across Sanford Stadium bridge to Reed quadrangle on North Campus.
And there were throngs of people on both sides of the path cheering the naked runners on. People had come from miles around to witness the event. Perverted men from places like Winder and Monroe even brought their wife and kids to witness the event.
I'm not sure where they keep such records but I was told we did set the national record for having the most naked people in one place at one time in the history of the United States.
I'm not sure what I will be known for when my time on earth is done.
But it should be known that I participated in the largest streak in the history of the United States in Athens Georgia in the spring of 1974.
And I have a scar on my rear end to prove it.